My friend Beth Rhyne (of Smart, CFI and Accion) recently posted a bizarre article on the CFI blog (i.e. on her blog) in which she pleads for money. The premise is that the infrastructure of the microfinance sector, by which she refers to her own institution and those of her buddies, needs fixing. Some might suggest replacing entirely. She doesn't really state why they are apparently broken, but the bottom line is that she wants money. The club includes the Social Performance Taskforce (SPTF), Smart Campaign, MixMarket, four rating agencies, and she later clips on Truelift. She then further adds the Progress out of Poverty Index (PPI), which is a toolkit rather than a company, but one promoted by her friends at Grameen Foundation USA (GFUSA).
The source of the problem, according to Rhyne, is that the public sector is no longer willing to fund such entities. Private investors are reluctant to stump up the cash. And the microfinance institutions (MFIs) themselves don't want to pay for their services. This certainly explains why she's coming cap-in-hand for money. However, there is a possibly simpler explanation for why the public sector, private sector and clients don't support or want to pay for a product: perhaps it's not a very good product? MFTransparency does provide a useful function; the PPI is not a product, but a concept; and the rating agencies are generally competent. But in the case of the SPTF, Smart and Truelift there is a very real possibility that "ineffective, unwanted product" could be the cause of this problem.
Indeed, one could wonder why these institutions don't simply merge into one massive entity for all the cross-relationships there are, they could probably save some operating expenses in the process. I get so confused with the incestuous relationships between them that I spent a few minutes on their various websites looking for their various partners, steering committee members, directors, advisors etc. See if you can spot the pattern:
Smart (also known as Crafty): Accion in various guises, including basically owning Smart, housing it, directing it etc; Larry Reed of the Microcredit Summit Campaign; Beth Rhyne herself (Accion); Finca; Anne Hastings of the CEO Working Group; Asad Mahmood of Deutsche bank (although he recently quit); Credit Suisse; Ford Foundation; Mastercard; SPTF.
The CEO Working Group: Accion; Finca; Freedom from Hunger; GFUSA; Opportunity Int'l; ProMujer; Vision Fund International (VFI); Women's World Bank (WWB).
The Summit Campaign: Larry Reed is the director, and former CEO of Opportunity Int'l; Bergeron is from Truelift/Smart, and ex-Kiva; Yunus; Hatch (of Finca); another Truelift bod; Citibank; Freedom from Hunger; GFUSA.
MixMarket: Citibank, CGAP and Mastercard.
Social Performance taskforce (SPTF): Ford Foundation; CGAP; Grameen; Ann Hastings (CEO Working Group); MixMarket.
MFTransparency (the only credible member here): various rating agencies; MixMarket; Smart; SPTF; Mastercard; Citibank; Ford Foundation; Deutsche Bank.
Truelift (the least credible member here): Isabelle Barres (of Accion and Smart); Alex Counts (GFUSA, CEO Working Group); Ford Foundation; SPTF; Anne Hastings (CEO Working Group); Deutsche Bank; Larry Reed (of Microcredit Summit Campaign); Premal Shah of Kiva (advisor!); Emmanuelle Javoy (ex-Planet Rating); Sam Daley-Harris (ex-Microcredit Summit Campaign); Susy Cheston (Accion); CEO of MixMarket; Freedom from Hunger.
Am I the only one to notice some similarities in these various entities? They seem to all be sitting on each other's boards, advising one another, funding one another, hiring one another, promoting one another's activities, and generally scrubbing one another's backs, no?
In one of those rare occasions when I actually agree with Rhyne, she distinguishes between first generation entities (MixMarket and the ratings agencies) and second generation (the rest). The MixMarket is not the most user-friendly or accurate database in the world, but actually it's a decent enough resource which I use and am grateful for. I praise the rating agencies extensively in my book, and let's not forget that the recent collapse of (Accion's investment) MiBanco in Peru was first called by Fitch Ratings last year.
I also respect MFTransparency, who publish the real APRs that these MFIs are charging the poor, data which I use to annoy the likes of Opportunity Int;l who don't like people talking about their 150% APRs, or to demonstrate why Kiva's estimate of interest rates is so poor. I wish this data could actually get into the hands of those that need it – the poor – but this gripe aside MFT is a valuable addition to the sector and I sincerely hope someone, public or private, finances it.
It's the other three that are a nuisance. They do almost nothing; off-record most people don't take them that seriously, everyone knows it is largely window-dressing to maintain the reputation of the sector; and actual client protection comes a distant second when it comes to maintaining these institutions. Note that nowhere in the article does Rhyne state that some actual harm could come to the end-clients (i.e. the poor) as a result of this "existential threat" to these companies struggling to make ends meet. The poor aren't mentioned in the article, which raises the question, why is this a problem at all? The clue comes later:
"Because international investors are putting money into microfinance at an unflagging rate" i.e. we need to keep the money rolling into the sector.
"Because global bodies are important for keeping standards high everywhere and pointing the way for national initiatives" – and this is what we've come up after 30 years of microfinance activities – Smart and Truelift, the latter occasionally confused for a Wonderbra?
"These bodies are important because they shape a global identity for microfinance which is essential for preserving the social character of the industry" – exactly! Maintain outward appearances – Beth and I agree on a second point at least!
So, last night I was checking my Twitter feed and a strange person I had never come across (microfinance is a small sect – you get to know the usual suspects pretty quickly) posted some mysterious comments about Smart Campaign and how wonderful it was. The Twitter handle is @AndrewSprung, and sure enough, he runs a PR company, called SprungPR. Click on the case studies and who crops up on the client list? Accion. Wow, what a small world it is! And look at what the case study boasts:
"Our work has yielded in-depth coverage and interviews with firm leaders in publications including The New York Times, Financial Times, Wall Street Journal, Globe & Mail, Time, Economist, BusinessWeek, Forbes, and Fast Company. Recently, as Accion has taken major equity stakes or wholly financed new microfinance ventures in Asia, Africa and Latin America,  these initiatives have been covered in outlets including Dow Jones,People's Daily and China Daily, Forbes.com, The Washington Post, The Deal, PE Hub, VCCircle,Telecompaper, ITWeb, and BNAmericas. We have also enhanced Accion's thought leadership by placing bylines in publications including New York Times Dealbook, Forbes.com, Marketwatch, andAmerican Banker, as well as letters in The New York Times, Boston Globe, and BusinessWeek (see examples on the bylined articles page). In addition, we have helped with the development and promotion through social media of a regular Huffington Post column by Elisabeth Rhyne, director of Accion's Center for Financial Inclusion. More broadly, we have helped Accion engage with the microfinance and development community and interested journalists on Twitter and in other social media."
So, while Rhyne is going round asking for money, it appears they have enough to employ the services of a PR company. Given that Smart is Accion, this was hardly difficult. So, expect a series of placements in mainstream media about the joys of these initiatives, not because some bright journalist has decided to write about them, but because a de facto lobbyist has campaigned on their behalf. Isn't it a bit odd that such bodies even need a PR company?
Some may remember a similar case some years ago, when Friends of Grameen employed none other than Burson-Marsteller in response to Tom Heinemann's controversial documentary about Yunus and Grameen Bank. They engaged in a flawed smear campaign against Heinemann, which should come as little surprise. Burson-Marsteller's previous clients include Union Carbide, Philip Morris, Blackwater, Nicolae Ceausescu, and Pinochet himself. They did the smear campaign for Facebook against Google, and Rachel Maddow of MSNBC famously commented "When Evil needs public relations, Evil has Burson-Marsteller on speed-dial". Again, isn't it strange that Friends of Grameen would need these guys?
And in yet another ironic twist, in my recent critical post against the CEO of microfinance investment fund Incofin I sniffed around the guy who had originally Tweeted the link to this ridiculous interview. The vociferous Tweeter (16,300 to date) named Michiel Sallaets is none other than Communications Manager at Incofin, and according to his bio on the Incofin website, take a wild guess where he worked previously? Burson-Marsteller. It seems the company that boasted Pinochet and the Argentine military junta amongst its clients is now actively working in the microfinance sector.
Anyway, what can we conclude from all this?
Do not trust the likes of Truelift and Smart as far as you can throw them, these are meaningless spin organisations.
Be worried about any such initiatives that rely on dodgy PR companies.
Be aware of smear campaigns, planted articles, dubious media coverage and questionable "research papers" or "interviews". Investigate carefully the content and background of each.
Note (with fear) that despite appearances, microfinance is almost entirely unregulated. Hopefully one day someone will address this sensibly.
MFIs: ignore these institutions, don't waste your money on their certifications or silver stars or whatever else they offer, but do submit your data to MixMarket, to MFTransparency, and get independent ratings.
Rating agencies: don't sell out and start offering pathetic certifications – doing so will undermine your otherwise good work.
Investors (public and private): don't put a dime into these organisations, but also do not take any faith in their medals and promises and certifications – there is no substitute for a decent due diligence. If a credible and independent regulator does come along, finance it, but check the people running it first. Support MFTransparency and the independent rating agencies, and consider making both a condition for investing in an MFI.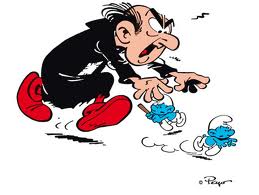 We do need to clean up the microfinance sector. That is beyond doubt, but the current offering is inadequate. If we want to rely on so-called self-regulatory bodies, they must be genuinely objective and independent of the people they are meant to be regulating. The current situation is as farcical as putting Goldman Sachs in charge of the SEC. Or perhaps it's more like putting Gargamel in charge of the Smurfs?